Stress Management is the Best Prevention
FEBRUARY: THE MONTH OF LOVE
"There must be quite a few things that a hot bath won't cure, but I don't know many of them."?~Sylvia Plath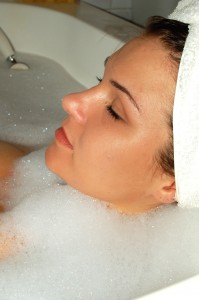 Many people who struggle with anger often want to know how to deal with this powerful emotion, especially in moments when their anger is at its worst. They want the "magic pill" that will decrease their anger from a 10 to a 1 in 0.5 seconds. Unfortunately, that pill simply does not exist!
What does exist, however, is a simple yet powerful tool which can help greatly reduce your anger: prevention. You've heard it before, but it's true! Prevention is the best medicine, and one of the best ways to prevent your anger from spiraling out of control is learning how to practice stress management.
Why stress management, you may ask? Stress is one of the biggest factors that can negatively impact your anger. Therefore, the more you learn to control your stress, the better chance you have to control your anger. In other words, when you feel calm and relaxed in the moment, it takes a lot to make you angry; on the other hand, when you feel stressed out and frazzled, it doesn't take much at all to get you riled up!
What's the key to managing stress, then? Catch it early!! The sooner you notice yourself feeling stressed and the sooner you take action, the more quickly you can reduce your stress and, in turn, your potential for feeling anger. In addition, the stress management techniques you utilize can be on any or all levels, including the physical, mental, emotional, and spiritual levels. In some circumstances, you may decide to look for treatments that have been known to help relieve your stressful emotions. For example, this may be in the form of CBD cream, that you can get from somewhere like Mission Farms CBD (https://missionfarmscbd.com/cbd-creams/), or it may be in the form of a prescribed medication that has been provided by your doctor. Choose what's right for you, and remember….take action as soon as possible.

Call to Action!
This week, choose 2-3 stress reduction techniques that you enjoy. For example, you could try getting a massage, exercising regularly, journaling your feelings, walking in nature, getting rest, and/or breathing slowly. No matter what activities you choose, see if you can do them as soon as you notice the first sign of stress. Take action, and watch your stress melt away….
anger anger management anger management skills emotional level feeling stressed out physical levels practice stress management preventing anger prevention reduce your anger spiritual level stress stress management stress reduction stressful