Gayane Aramyan, B.A., MFT Trainee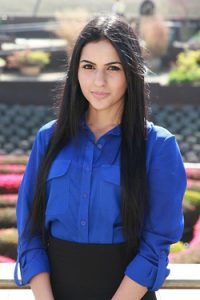 Gayane Aramyan, B.A., MFT Trainee
Gayane Aramyan was born in Moscow, Russia. At the age of eleven, her family moved to Los Angeles, California. Knowing only Russian and Armenian, she was immediately enrolled in Rose and Alex Pilibos, a private Armenian school in the city of Los Angeles, where she learned English.
Miss Aramyan graduated from Pilibos in 2011 with the Principal's Honor List. Gayane transferred to Loyola Marymount University for her junior year in college and graduated with a Bachelor's Degree in Psychology in May, 2015.
In July of 2011, Gayane joined the Anger Management 818 team where she started as the Program Assistant and spearheaded the transition to an electronic file system. Miss Aramyan introduced the idea of creating a mobile app for Anger Management 818. She not only created the Anger Management app, but she had it published within a few weeks. Currently Gayane serves as the Executive Assistant to Anita Avedian, MFT, in both the Private Practice and the Company for Anger Management 818. Through the anger management team meetings, Gayane has learned about anger management counseling, tools and skills.
Gayane went through the Anger Management training and became a certified Anger Management Counselor in June 2014. Miss. Aramyan also works for Dr. Nora Papasian, a Child and Adolescent Psychiatrist, assisting with billing, scheduling appointments, and daily office tasks.
Through Gayane's experience with both Anita Avedian, and Dr. Nora Papasian, she realizes how passionate she feels about helping people. Her career goal is to become a Marriage and Family therapist.
She is currently attending Pepperdine University and is working on her Master's Degree with an emphasis in Marriage and Family Therapy. She is also a counselor at an elementary school as an MFT Trainee.